Click to explore the knowledge
The Knowledge
Inspiration…Christmas Gift Ideas
Mulling Drink Spice Mixes…
For guaranteed festive cheer try one of our mulling drink spice mixes (1.95 each) including our latest Mulled White Wine, best selling traditional Mulled Wine for red wine, Mulled Cider, Cajun Cafe Brulot for a liquor coffee with a kick together with our Sorrel Rum for an authentic Carribean punch plus with many having non-alcoholic recipe versions as well, non-drinkers and designated drivers need not miss out.
Inspirational Gift Ideas…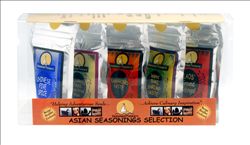 For gifts around 10 pounds, try one of our gift selections. With five seasonings and a recipe booklet, you can chose from cuisines such as Indian, Asian as well as Worldwide selections. With our festive Mulling Drinks selection and, for those who like it hot, our Hot and Fiery or Chillies selections, containing five different chillies with heat ratings up to volcanic.
For gifts under 20 pounds, try our Delia Smith 'Cheat' Ingredients, with all ten of our seasonings used in Delia's book 'How to Cheat at Cooking' or our Worldwide Curry Powders selection which contains ten authentic dry-roasted curry powders from around the world, including South African Curry Powder, Malay Curry Powder and the wonderful Zanzibar Curry Powder.
For the budding chef the Essential Store Cupboard Seasonings (38 pounds) is a collection of 30 spices that no kitchen should be without including staples such as black peppercorns, bay leaves, pimenton and allspice. Or for a more adventurous twist on the essentials try the Exotic Store Cupboard Seasonings (53 pounds).
For the chef that has everything the ULTIMATE Spice Aficionado Collection (180 pounds) is a selection of 100 of our most interesting and unusual spices and blends including Indonesian Laos Powder, Iranian Advieh Rice Seasoning and Mexican Epazote Leaves. Now that's got to impress any cook or chef!
For the full range of our gift selections, click here
For the full range of our seasonings collections, click here
Stocking Fillers…
For great stocking fillers, our individual seasonings are ideal. Practically gift-wrapped already in their attractive funky foil packaging (it keeps them super fresh too!), there's over 200 to choose from so you can tailor your selection to any lucky chefs desires maybe Moroccan Ras-el-Hanout, Indian Gujarati Masala, Middle Eastern Rose Petals or you can choose a gorgeous little fabric bag of Mulled Wine spice balls, that can also decorate your Christmas tree!
Why not treat someone to a great cookery book with an accompanying gift box of especially selected spices. We have designed several selections in conjunction with the authors:
Rick Stein's India Spice Selection, used in his book and TV series India.
Delia Smith Ten Spices, used in her book How to Cheat at Cooking.
Delia's Spices used in Delia's Cakes.
Annie's Camping Spice Kit, used in The Camping Cookbook by Annie Bell.
Seasoned Pioneers Gift Service…
And now you can even save time on wrapping by selecting the gift service option when you buy. For just 3.95, we will send your package hand wrapped together with a handwritten message of your choice, plus, if you want, we'll even send your gift directly to the lucky recipient!