Click to explore the knowledge
The Knowledge
Seasonal focus: cauliflower
"Cauliflower is nothing but cabbage with a college education" Mark Twain.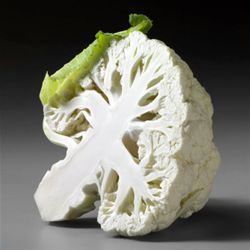 Not a vegetable that necessarily stands out on the seasonal vegetable lists – though it might be because it's pretty much available all year round. But its brilliant ability to absorb flavours, not to mention the fact that it only has around 28 calories per 100g, makes it a very versatile ingredient for so many dishes. It also contains a significant amount of vitamin C meaning that one serving could give you your day's worth – ideal to help fend off winter colds.
Because of the way it sucks up other flavours, it's an ideal vegetable to use in curries and similar side dishes such as Antony Worrall Thompson's Cauliflower, Spinach and Chickpea Balti or a classic Aloo Gobi, or a traditional Piccalilli – ideal with leftover cold meats as well as cheeses.
And it's not that hard to find a good way to use any leftover cooked cauliflower – we don't really need to look much further than a comforting Cauliflower Cheese or used, along with a creamy blue cheese, to make a delicious quick and easy soup. But for an alternative, why not try this lovely Persian Cauliflower Kuku, delicious eaten straight from the oven or the fridge.